Do you pay for everything you buy with cash, check or traditional credit card? While the vast majority of retail transactions are still conducted via such traditional means, we look to be in the early days of a change in the way we pay for things. If you have used your phone or tablet computer to purchase goods and services by swiping your phone at a payment terminal, then you are at least aware of the transformation that is underway in the payments industry. (In general, the term mobile wallet can be used to describe payment services operated under financial regulation and performed from or via a mobile device.)
According to Deloitte's annual Technology, Media & Telecommunications Predictions report, in-store mobile payments will increase by more than 1,000% worldwide this year. In addition, 5% of the world's smartphones are expected to be used to make a payment in a store at least once a month, up from 0.5% in mid-2014.
Juniper Research estimates that the total value of global payments completed via mobile devices in 2014 was $507 billion, up nearly 40% from 2013. Juniper also notes that average transaction sizes made over tablets are already larger than those completed on desktop PCs in many markets.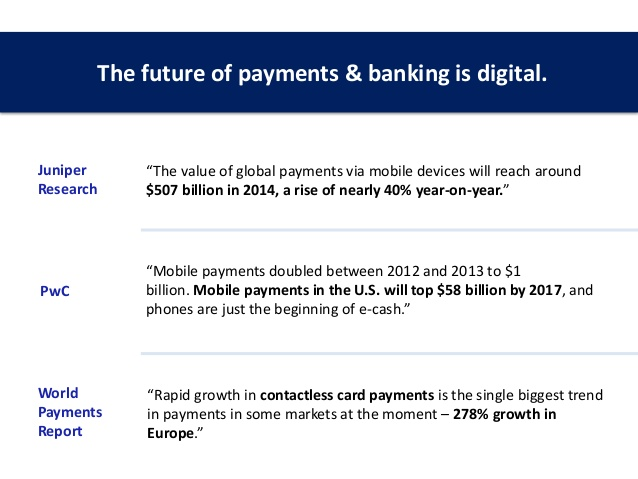 Forrester Research expects that in the U.S., total mobile payments – consisting of in-person payments, remote purchases and peer-to-peer transfers – will nearly triple in five years from $52 billion in 2014 to $142 billion in 2019. (Peer-to-peer transfers are made via an online system that allows individual members to complete financial transactions with one another.) We are still in the very early days of the acceptance of such technologies as, according to the U.S. Commerce Department, total U.S. retail sales were $4.5 trillion in 2013.
To an increasing extent people are relying more and more on their phones in their everyday lives. This raises the likelihood that they will expect to use them to obtain whatever they need no matter where they are. Retailers are starting to become more accommodative, installing point-of-sale technology that allows customers to pay with a touch or a wave of their phone. Smaller companies are also investigating the use of mobile payments for business-to-business transactions.
The transition to new payment systems can also help reduce fraud. Identity fraud costs the credit card industry $15 billion annually. More than half of that fraud occurs in the U.S. alone. Payment services such as Apple[1] Pay look to greatly reduce credit card fraud by removing many of the risks associated with traditional payment systems. This is not to imply that adopting mobile payments is worry-free. While mobile payments have the potential to provide better payment experiences for consumers and businesses, they also pose challenges in terms of making sure data is secure. The biggest concern is making sure all transaction data is safe from cyberattackers. The confidentiality of the data must be protected.
Forrester Research believes that mobile wallets will also morph into rich marketing platforms over the next five years. Mobile wallets provide marketers with the ability to extend their brand, improve conversion rates and drive traffic and sales.
At BWFA, our long-term approach keeps us from investing in short-term trends. However, we do look to take advantage of longer-term changes in the marketplace. We have attempted to identify well-managed, attractively valued companies that we believe have the potential to benefit from the evolution of the payment system over the next several years. The aforementioned Apple is only one example of such equities.
[1] Shares of Apple are currently on BWFA's "Buy/Hold" list and are held in client accounts.