Art Buchwald, the famous American humorist and syndicated newspaper columnist, once said—"Tax reform is taking taxes off things that have been taxed in the past and putting taxes on things that haven't been taxed before."
Since Benjamin Franklin long ago warned us of the "two inevitables", BWFA continues to include tax services as one of the pillars of strong comprehensive wealth management services for individuals. As we start to approach year end, and our obligation to file those tax returns again draws near, we believe it an opportune time to remind our clients of the processes we follow, not only during tax season but throughout the year as well, to provide sound tax advice.
The accompanying chart outlines the overall process for handling your tax filing needs, including all of our robust procedures and the BWFA human resources, involved to ensure we do our best, year-round, to plan properly for our clients' tax related issues.
CLIENT SERVICES TEAM
Our client associates assist with collecting your information, and coordinating with our tax professionals from beginning to end
---
TAX ADMINISTRATORS
Meet with clients and organize the process with our tax advisors
---
TAX ADVISORS
Meet with clients to answer specific technical questions and to explore with clients advantageous tax strategies
---
TAX CONSULTANTS
Work with our in-house team to review tax returns and other important issues specific to individual clients' situations
---
SENIOR TAX CONSULTANTS
Work with our in-house team to provide high level client advice and perform final reviews of tax returns in order to ready them for filing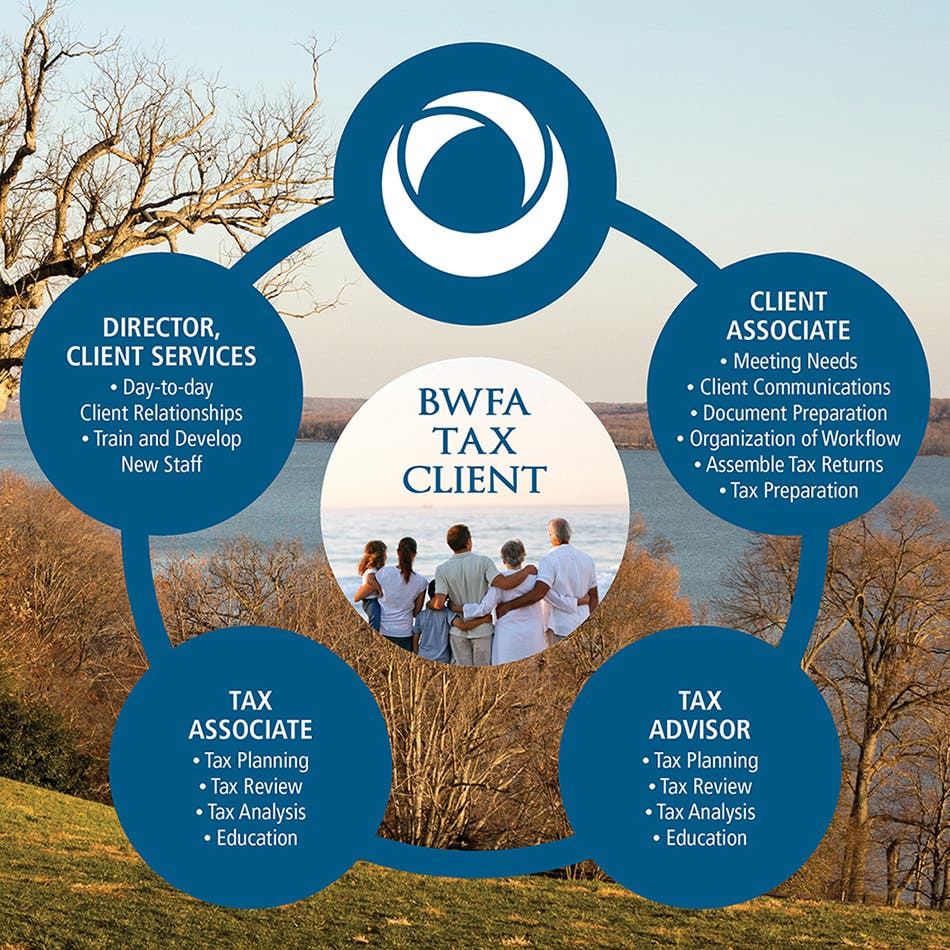 During tax season we have a collective team of 8 tax professionals who are keenly focused on delivering on our commitment to this pillar of our business—one of the three "legs of the stool"—comprised of financial planning, tax services, and portfolio management. In addition to these 8 professionals, the remainder of us at BWFA, (namely client associates, portfolio managers, and financial planners) work collaboratively with these tax professionals to focus intently on the clients' full integrated financial picture. It is a job too big for one person!
Besides this extensive process during tax filing season, we are equally as proud of the fact that we can partner with clients to assist with other tax related projects throughout the year, in concert with our financial planning and investment management professionals. Only a small percentage of investment advisory firms offer all of these services in one place!
I am proud to be paying taxes in the United States. The only thing is I could be just as proud for half the money."  –Arthur Godfrey
meet the bwfa tax team
RACHEL DUNCAN


Tax Advisor
rduncan@bwfa.com

ANN 

GARCZYNSKI
Client Associate
agarczynski@bwfa.com

GARY 

TROTTER
Tax Associate


gtrotter@bwfa.com

LEX RUYGROK
CPA 
Tax Consultant
lruygrok@bwfa.com

JAMES BURGESS


CPA 
Tax Consultant
jburgess@bwfa.com
SHAWN MATHEW
Tax Associate
smathew@bwfa.com