Employee Q & A with:
Phil Weiss, CFA, CPA
Chief Investment Analyst
Hire Date: June 3, 2013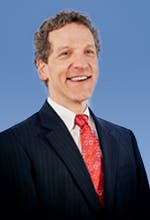 Tell us a bit about yourself. Where did you grow up? I grew up in Livingston, NJ. My family (I also have a younger sister) moved there when I was about four years old. Livingston was mostly farmland until the 1960s, when it was converted to a popular suburban community. It's about 30 minutes from New York City via the Lincoln Tunnel.
When did you first know you wanted to work as an investment analyst? Near the end of college, though it took me a long time to actually work in the field. I earned an accounting degree from Rutgers, and my first job out of college was in public accounting for Deloitte, where I focused on international corporate tax planning and research. I started transitioning to the investment analyst area after about 10 years. I initially did some writing, analysis, and portfolio management for TheMotleyFool.com to get my feet wet. Then I learned about the Chartered Financial Analyst (CFA) program and earned that designation while working for T. Rowe Price as an institutional writer and editor.
Tell us about your experience as a CFA charter holder. Not long after earning the CFA designation, I was offered a job with Argus Research, an independent research provider. I covered the energy sector (oil and gas companies) for Argus and also managed an equity income portfolio. 
 What brought you to BWFA, and what do you like best about working here? I joined BWFA because I was looking for a chance to develop both personally and professionally. I enjoy following the market and analyzing stocks. While I'll always maintain a keen interest in energy stocks, I appreciate the opportunity here to follow different businesses and apply my skills to a wider assortment of companies.
What's been your early experience at BWFA?
I think BWFA is a fun place to work. It's a good group of people and a nice place to come to every day. I also really enjoy the discussions with the other members of our Investment Committee about the market, the economy, and what's going on in the world.
What would our clients be surprised to know about you? Hmm. Let's try these: I am an avid baseball fan, and my favorite team is the Yankees. My favorite player of all time is Thurman Munson. I love to bike, especially on the road. My wife and I have four kids—three boys and a girl (our youngest). I love to coach their teams in soccer, basketball, and baseball. I went to Duke as a premed student, majoring in psychology. I'm also a huge Duke basketball fan. If you add the New York Giants, that means that none of my three favorite sports teams are very popular in this area. Also, I love to cook, I'm the primary cook for my family. My favorite dog breed is the Shih Tzu (ours is named Carly).