By:  Meghan Manas – Office Manager
Employee Spotlight  – Ben Dorsey | CPA, CFP®, MST – Director of Tax Services
Tell us a bit about yourself. where did you grow up?  I grew up in Mt. Airy, MD and went to college in Maryland at Towson  University and University of Baltimore.
When did you first know you wanted to work as a tax professional?  The corporate accounting scandals in the early 2000's put a premium on CPAs coming into the work force, and I had always enjoyed working with numbers. My interests and the job market lined up perfectly.
What brought you to BWFA, and what do you like best about working here?  I was looking for an opportunity to utilize my tax background while having an opportunity to be part of a holistic, full-service financial service team. What do I like best about working at BWFA? Most tax service organizations are so focused on tax returns that a lot of related strategic financial planning solutions and opportunities are missed. BWFA has an experienced and highly trained staff that allows coordination and execution of effective, long-term financial strategies.
You have completed your first season as tax director of BWFA; how do you feel it went?  I thought the season went very well; we received a lot of positive feedback from clients and also feedback that will assist us in servicing clients in future years. Our team worked extremely hard and we were able to meet the deadlines we set out to meet.
What would clients be surprised to know about you?  My wife and I went to the same high school, but we didn't start dating until college; she is pregnant with our first child, due July 24th.
Mark Stinson Celebrates 10 Years with BWFA!
 "Just as it takes a child to raise a parent, it takes clients to train an advisor. I have learned so much from our clients about what is important to them and it has made me a much better advisor. We have great clients and working with them during the last 10 years has been a privilege." – Mark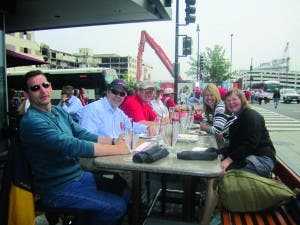 Take Me Out to the Ball Game!  The BWFA Tax Team spent a beautiful afternoon at Nationals Park unwinding from the busy tax season.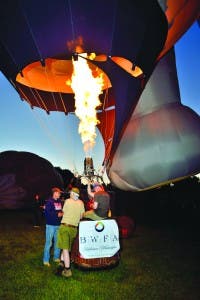 BWFA was a Proud Sponsor of the Preakness Celebration Hot Air Balloon Festival held at Turf Valley on May 15th and 16th.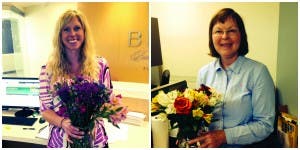 Administrative Professionals' Day Did Not Go Unnoticed at BWFA!  We celebrated our team with lunch and flowers.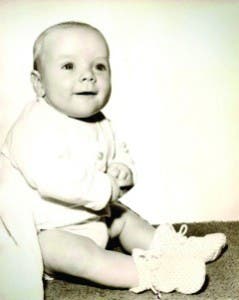 Guess Which BWFA Staff Member This Baby Grew Up to Be!  Email your answer to Meghan Manas, mmanas@bwfa.com, for a chance to WIN A BWFA BAG!