By:  Joseph Caputo | Chief Information Officer and Associate Portfolio Manager
If you've used TD Ameritrade's website AdvisorClient.com to access your investments, you'll be happy to know that here is now an app for that. With the new TD Ameritrade AdvisorClient® Mobile app, you can view real-time account balances, positions, and transaction history from your Apple iPhone or iPad.
Othe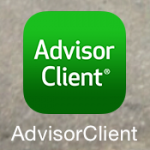 r convenient features include:
• Consolidated account balances
• Detailed quotes
• Third-party research
• Quick access to advisor contact information
We encourage all of you to visit the iTunes App Store to begin using TD Ameritrade AdvisorClient® Mobile today!
Stay tuned for information regarding the new layout and features of TD Ameritrade's online client platform in our upcoming newsletters.
If you have any questions, please call us at 410-461-3900.