Joseph Manfredi, MBA
Chief Operating Officer & Senior Portfolio Manager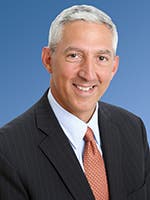 Joseph Manfredi is Chief Operating Officer and Senior Portfolio Manager of Baltimore-Washington Financial Advisors, Inc. In his role, Joe is responsible for day-to-day management of the firm with a focus on portfolio management, operations and compliance leadership.
Joe brings 30 years of financial services experience to BWFA.  Most recently he was Regional Manager and Senior Vice President with Wells Fargo Wealth Brokerage Services in central Virginia, leading the group in wealth services for high net worth brokerage clients in areas that include investment management, financial planning, private bank lending services, and trust and estate services. Joe has also served in similar roles with industry leading firms such as UBS, Prudential Financial and Piper Jaffray.  Before his successful management career, he began working in the industry as a financial advisor with Merrill Lynch.
He holds a bachelor's degree in finance as well as a master's in business administration, both from Fordham University in New York.
Joe is a lifelong competitive rower and formerly served as Vice President for the Virginia Boat Club, a 100-plus-year-old nonprofit organization that promotes rowing in Virginia, supporting youth, university, masters and adaptive rowing in the community. He is a current competitive member of Potomac Boat Club in Washington, DC.
Joseph and Susanna, his wife of 27 years, are the proud parents of four grown daughters.